We launched AWS Support a full decade ago, with Gold and Silver plans focused on Amazon EC2, Amazon S3, and Amazon SQS. Starting from that initial offering, backed by a small team in Seattle, AWS Support now encompasses thousands of people working from more than 60 locations.
A Quick Look Back
Over the years, that offering has matured and evolved in order to meet the needs of an increasingly diverse base of AWS customers. We aim to support you at every step of your cloud adoption journey, from your initial experiments to the time you deploy mission-critical workloads and applications.
We have worked hard to make our support model helpful and proactive. We do our best to provide you with the tools, alerts, and knowledge that will help you to build systems that are secure, robust, and dependable. Here are some of our most recent efforts toward that goal:
Trusted Advisor S3 Bucket Policy Check – AWS Trusted Advisor provides you with five categories of checks and makes recommendations that are designed to improve security and performance. Earlier this year we announced that the S3 Bucket Permissions Check is now free, and available to all AWS users. If you are signed up for the Business or Professional level of AWS Support, you can also monitor this check (and many others) using Amazon CloudWatch Events. You can use this to monitor and secure your buckets without human intervention.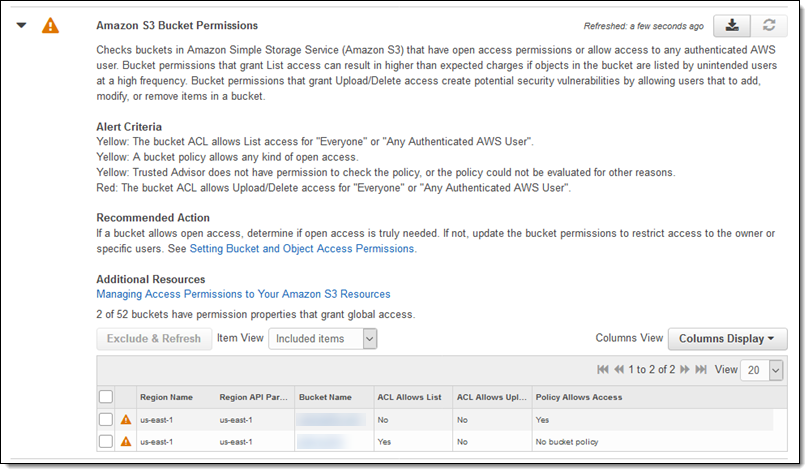 Personal Health Dashboard – This tool provides you with alerts and guidance when AWS is experiencing events that may affect you. You get a personalized view into the performance and availability of the AWS services that underlie your AWS resources. It also generates Amazon CloudWatch Events so that you can initiate automated failover and remediation if necessary.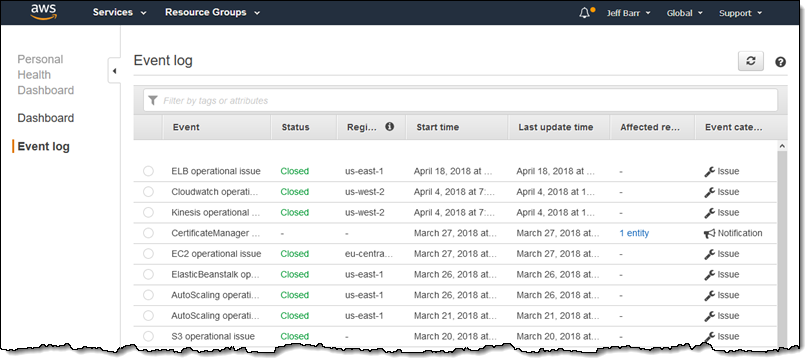 Well Architected / Cloud Ops Review – We've learned a lot about how to architect AWS-powered systems over the years and we want to share everything we know with you! The AWS Well-Architected Framework provide proven, detailed guidance in critical areas including operational excellence, security, reliability, performance efficiency, and cost optimization. You can read the materials online and you can also sign up for the online training course. If you are signed up for Enterprise support, you can also benefit from our Cloud Ops review.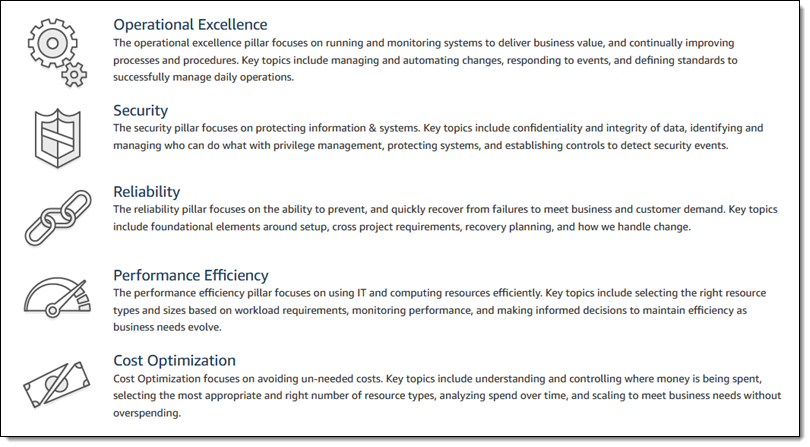 Infrastructure Event Management – If you are launching a new app, kicking off a big migration, or hosting a large-scale event similar to Prime Day, we are ready with guidance and real-time support. Our Infrastructure Event Management team will help you to assess the readiness of your environment and work with you to identify and mitigate risks ahead of time.
Partner-Led Support – The new AWS Solution Provider Program for APN Consulting Partners allows partners to manage, service, support, and bill AWS accounts for end customers.
To learn more about how AWS customers have used AWS support to realize all of the benefits that I noted above, watch these videos (and find more on the Customer Testmonials page):
The Amazon retail site makes heavy use of AWS. You can read my post, Prime Day 2017 – Powered by AWS, to learn more about the process of preparing to sustain a record-setting amount of traffic and to accept a like number of orders.
Come and Join Us
The AWS Support Team is in continuous hiring mode and we have openings all over the world! Here are a couple of highlights:
Visit the AWS Careers page to learn more and to search for open positions.
— Jeff;