Happy 2018! I am looking forward to getting back to my usual routine, working with our teams to learn about their upcoming launches and then writing blog posts to bring the news to you. Right now I am still catching up on a few launches and announcements from late 2017.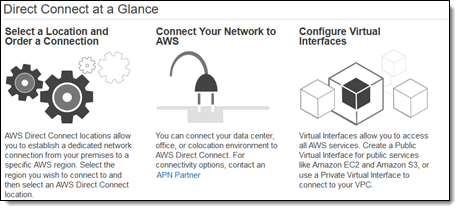 First on the list for today is our most recent round of new cities for AWS Direct Connect. AWS customers all over the world use Direct Connect to create dedicated network connections from their premises to AWS in order to reduce their network costs, increase throughput, and to pursue a more consistent network experience.
We added ten new locations to our Direct Connect roster in December, all of which offer both 1 Gbps and 10 Gbps connectivity, along with partner-supplied options for speeds below 1 Gbps. Here are the newest locations, along withe the data centers and associated AWS Regions:
Bangalore, India – NetMagic DC2 –

Asia Pacific (Mumbai)

.
Cape Town, South Africa – Teraco Ct1 –

EU (Ireland)

.
Johannesburg, South Africa – Teraco JB1 –

EU (Ireland)

.
London, UK – Telehouse North Two –

EU (London)

.
Miami, Florida, US – Equinix MI1 –

US East (Northern Virginia)

.
Minneapolis, Minnesota, US – Cologix MIN3 –

US East (Ohio)

Ningxia, China – Shapotou IDC –

China (Ningxia)

.
Ningxia, China – Industrial Park IDC –

China (Ningxia)

.
Rio de Janeiro, Brazil – Equinix RJ2–

South America (São Paulo)

.
Tokyo, Japan – AT Tokyo Chuo –

Asia Pacific (Tokyo)

.
You can use these new locations in conjunction with the AWS Direct Connect Gateway to set up connectivity that spans Virtual Private Clouds (VPCs) spread across multiple AWS Regions (this does not apply to the AWS Regions in China).
If you are interested in putting Direct Connect to use, be sure to check out our ever-growing list of Direct Connect Partners.
— Jeff;