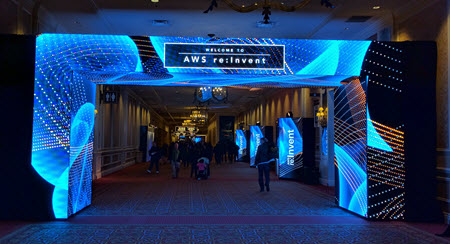 As you wander through the AWS re:Invent campus, take a minute to think about your expectations for all of the elements that need to come together…
Starting with the location, my colleagues have chosen the best venues, designed the sessions, picked the speakers, laid out the menu, selected the color schemes, programmed or printed all of the signs, and much more, all with the goal of creating an optimal learning environment for you and tens of thousands of other AWS customers.
However, as is often the case, the part that you can see is just a part of the picture. Behind the scenes, people, processes, plans, and systems come together to put all of this infrastructure in to place and to make it run so smoothly that you don't usually notice it.
Today I would like to tell you about a mission-critical aspect of the re:Invent infrastructure that is actually underground. In addition to providing great Wi-Fi for your phones, tablets, cameras, laptops, and other devices, we need to make sure that a myriad of events, from the live-streamed keynotes, to the live-streamed keynotes and the WorkSpaces-powered hands-on labs are well-connected to each other and to the Internet. With events running at hotels up and down the Las Vegas Strip, reliable, low-latency connectivity is essential!
Thank You CenturyLink / Level3
Over the years we have been working with the great folks at Level3 to make this happen. They recently became part of CenturyLink and are now the Official Network Sponsor of re:Invent, responsible for the network fiber, circuits, and services that tie the re:Invent campus together.
To make this happen, they set up two miles of dark fiber beneath the Strip, routed to multiple Availability Zones in two separate AWS Regions. The Sands Expo Center is equipped with redundant 10 gigabit connections and the other venues (Aria, MGM, Mirage, and Wynn) are each provisioned for 2 to 10 gigabits, meaning that over half of the Strip is enabled for Direct Connect. According to the IT manager at one of the facilities, this may be the largest temporary hybrid network ever configured in Las Vegas.
On the Wi-Fi side, showNets is plugged in to the same network; your devices are talking directly to Direct Connect access points (how cool is that?).
Here's a simplified illustration of how it all fits together: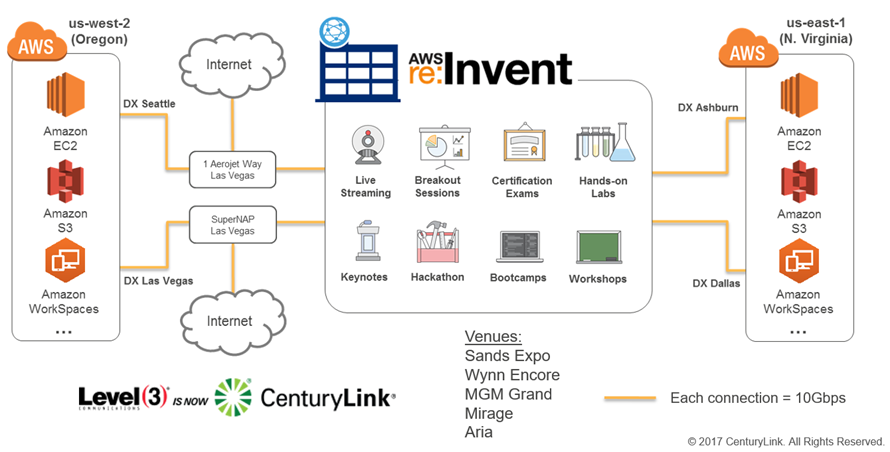 The CenturyLink team will be onsite at re:Invent and will be tweeting live network stats throughout the week.
I hope you have enjoyed this quick look behind the scenes and beneath the street!
— Jeff;