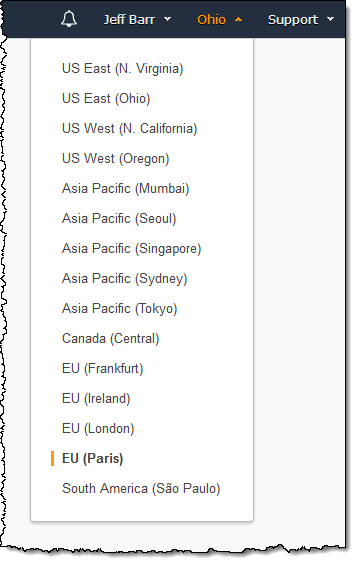 Today we are launching our 18th AWS Region, our fourth in Europe. Located in the Paris area, AWS customers can use this Region to better serve customers in and around France.
The Details
The new EU (Paris) Region provides a broad suite of AWS services including Amazon API Gateway, Amazon Aurora, Amazon CloudFront, Amazon CloudWatch, CloudWatch Events, Amazon CloudWatch Logs, Amazon DynamoDB, Amazon Elastic Compute Cloud (EC2), EC2 Container Registry, Amazon ECS, Amazon Elastic Block Store (EBS), Amazon EMR, Amazon ElastiCache, Amazon Elasticsearch Service, Amazon Glacier, Amazon Kinesis Streams, Polly, Amazon Redshift, Amazon Relational Database Service (RDS), Amazon Route 53, Amazon Simple Notification Service (SNS), Amazon Simple Queue Service (SQS), Amazon Simple Storage Service (S3), Amazon Simple Workflow Service (SWF), Amazon Virtual Private Cloud, Auto Scaling, AWS Certificate Manager (ACM), AWS CloudFormation, AWS CloudTrail, AWS CodeDeploy, AWS Config, AWS Database Migration Service, AWS Direct Connect, AWS Elastic Beanstalk, AWS Identity and Access Management (IAM), AWS Key Management Service (KMS), AWS Lambda, AWS Marketplace, AWS OpsWorks Stacks, AWS Personal Health Dashboard, AWS Server Migration Service, AWS Service Catalog, AWS Shield Standard, AWS Snowball, AWS Snowball Edge, AWS Snowmobile, AWS Storage Gateway, AWS Support (including AWS Trusted Advisor), Elastic Load Balancing, and VM Import.
The Paris Region supports all sizes of C5, M5, R4, T2, D2, I3, and X1 instances.
There are also four edge locations for Amazon Route 53 and Amazon CloudFront: three in Paris and one in Marseille, all with AWS WAF and AWS Shield. Check out the AWS Global Infrastructure page to learn more about current and future AWS Regions.
The Paris Region will benefit from three AWS Direct Connect locations. Telehouse Voltaire is available today. AWS Direct Connect will also become available at Equinix Paris in early 2018, followed by Interxion Paris.
All AWS infrastructure regions around the world are designed, built, and regularly audited to meet the most rigorous compliance standards and to provide high levels of security for all AWS customers. These include ISO 27001, ISO 27017, ISO 27018, SOC 1 (Formerly SAS 70), SOC 2 and SOC 3 Security & Availability, PCI DSS Level 1, and many more. This means customers benefit from all the best practices of AWS policies, architecture, and operational processes built to satisfy the needs of even the most security sensitive customers.
AWS is certified under the EU-US Privacy Shield, and the AWS Data Processing Addendum (DPA) is GDPR-ready and available now to all AWS customers to help them prepare for May 25, 2018 when the GDPR becomes enforceable. The current AWS DPA, as well as the AWS GDPR DPA, allows customers to transfer personal data to countries outside the European Economic Area (EEA) in compliance with European Union (EU) data protection laws. AWS also adheres to the Cloud Infrastructure Service Providers in Europe (CISPE) Code of Conduct. The CISPE Code of Conduct helps customers ensure that AWS is using appropriate data protection standards to protect their data, consistent with the GDPR. In addition, AWS offers a wide range of services and features to help customers meet the requirements of the GDPR, including services for access controls, monitoring, logging, and encryption.
From Our Customers
Many AWS customers are preparing to use this new Region. Here's a small sample:
Societe Generale, one of the largest banks in France and the world, has accelerated their digital transformation while working with AWS. They developed SG Research, an application that makes reports from Societe Generale's analysts available to corporate customers in order to improve the decision-making process for investments. The new AWS Region will reduce latency between applications running in the cloud and in their French data centers.
SNCF is the national railway company of France. Their mobile app, powered by AWS, delivers real-time traffic information to 14 million riders. Extreme weather, traffic events, holidays, and engineering works can cause usage to peak at hundreds of thousands of users per second. They are planning to use machine learning and big data to add predictive features to the app.
Radio France, the French public radio broadcaster, offers seven national networks, and uses AWS to accelerate its innovation and stay competitive.
Les Restos du Coeur, a French charity that provides assistance to the needy, delivering food packages and participating in their social and economic integration back into French society. Les Restos du Coeur is using AWS for its CRM system to track the assistance given to each of their beneficiaries and the impact this is having on their lives.
AlloResto by JustEat (a leader in the French FoodTech industry), is using AWS to to scale during traffic peaks and to accelerate their innovation process.
AWS Consulting and Technology Partners
We are already working with a wide variety of consulting, technology, managed service, and Direct Connect partners in France. Here's a partial list:
AWS Premier Consulting Partners – Accenture, Capgemini, Claranet, CloudReach, DXC, and Edifixio.
AWS Consulting Partners – ABC Systemes, Atos International SAS, CoreExpert, Cycloid, Devoteam, LINKBYNET, Oxalide, Ozones, Scaleo Information Systems, and Sopra Steria.
AWS Technology Partners – Axway, Commerce Guys, MicroStrategy, Sage, Software AG, Splunk, Tibco, and Zerolight.
AWS in France
We have been investing in Europe, with a focus on France, for the last 11 years. We have also been developing documentation and training programs to help our customers to improve their skills and to accelerate their journey to the AWS Cloud.
As part of our commitment to AWS customers in France, we plan to train more than 25,000 people in the coming years, helping them develop highly sought after cloud skills. They will have access to AWS training resources in France via AWS Academy, AWSome days, AWS Educate, and webinars, all delivered in French by AWS Technical Trainers and AWS Certified Trainers.
Use it Today
The EU (Paris) Region is open for business now and you can start using it today!
— Jeff;