Spring is in the air, new technologies are budding, and the community is buzzing.
Which means it's also springtime in the city by the bay and AWS is thrilled to announce an exciting event, AWS Community Day.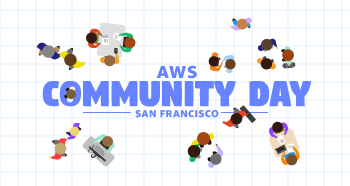 AWS Community Day is a community-led event in San Francisco where AWS Community Heroes, user group leaders, and other AWS enthusiasts will come together to deliver a full day of technical sessions on the latest in cloud computing.
During the event, you will get an opportunity to learn about the latest cloud computing trends, optimization best practices, and practical insights securing your infrastructure. Additionally, you will have the chance to discuss approaches to building healthy AWS meetups and community knowledge-sharing sessions.
In order to learn more details about the AWS Community Day in San Francisco, take a look at the blog post written by Community Hero, Eric Hammond, found here: https://alestic.com/2017/05/aws-community-day-san-francisco/.
Don't miss this great event, register today to take part in the AWS Community Day.
– Tara