AWS acquired CloudEndure last year. After the acquisition we began working with our new colleagues to integrate their products into the AWS product portfolio.
CloudEndure Disaster Recovery is designed to help you minimize downtime and data loss. It continuously replicates the contents of your on-premises, virtual, or cloud-based systems to a low-cost staging area in the AWS region of your choice, within the confines of your AWS account:

The block-level replication encompasses essentially every aspect of the protected system including the operating system, configuration files, databases, applications, and data files. CloudEndure Disaster Recovery can replicate any database or application that runs on supported versions of Linux or Windows, and is commonly used with Oracle and SQL Server, as well as enterprise applications such as SAP. If you do an AWS-to-AWS replication, the AWS environment within a specified VPC is replicated; this includes the VPC itself, subnets, security groups, routes, ACLs, Internet Gateways, and other items.
Here are some of the most popular and interesting use cases for CloudEndure Disaster Recovery:
On-Premises to Cloud Disaster Recovery -This model moves your secondary data center to the AWS Cloud without downtime or performance impact. You can improve your reliability, availability, and security without having to invest in duplicate hardware, networking, or software.
Cross-Region Disaster Recovery – If your application is already on AWS, you can add an additional layer of cost-effective protection and improve your business continuity by setting up cross-region disaster recovery. You can set up continuous replication between regions or Availability Zones and meet stringent RPO (Recovery Point Objective) or RTO (Recovery Time Objective) requirements.
Cross-Cloud Disaster Recovery – If you run workloads on other clouds, you can increase your overall resilience and meet compliance requirements by using AWS as your DR site. CloudEndure Disaster Recovery will replicate and recover your workloads, including automatic conversion of your source machines so that they boot and run natively on AWS.
80% Price Reduction
Recovery is quick and robust, yet cost-effective. In fact, we are reducing the price for CloudEndure Disaster Recovery by about 80% today, making it more cost-effective than ever: $0.028 per hour, or about $20 per month per server.
If you have tried to implement a DR solution in the traditional way, you know that it requires a costly set of duplicate IT resources (storage, compute, and networking) and software licenses. By replicating your workloads into a low-cost staging area in your preferred AWS Region, CloudEndure Disaster Recovery reduces compute costs by 95% and eliminates the need to pay for duplicate OS and third-party application licenses.
To learn more, watch the Disaster Recovery to AWS Demo Video: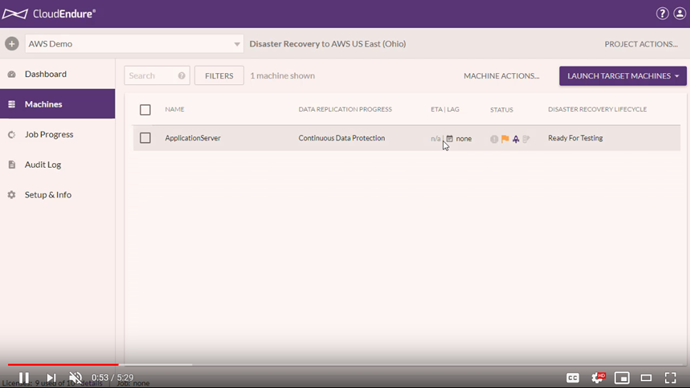 After that, be sure to visit the new CloudEndure Disaster Recovery page!
— Jeff;