As I have noted in the past, the AWS Blog Team is working hard to make sure that you know about as many AWS launches and publications as possible, without totally burying you in content! As part of our balancing act, we will occasionally publish catch-up posts to clear our queues and to bring more information to your attention. Here's what I have in store for you today:
Monitoring for Cross-Region Replication of S3 Objects
Tags for Spot Fleet Instances
PCI DSS Compliance for 12 More Services
HIPAA Eligibility for WorkDocs
VPC Resizing
AppStream 2.0 Graphics Design Instances
AMS Connector App for ServiceNow
Regtech in the Cloud
New & Revised Quick Starts
Let's jump right in!
Monitoring for Cross-Region Replication of S3 Objects
I told you about cross-region replication for S3 a couple of years ago. As I showed you at the time, you simply enable versioning for the source bucket and then choose a destination region and bucket. You can check the replication status manually, or you can create an inventory (daily or weekly) of the source and destination buckets.
The Cross-Region Replication Monitor (CRR Monitor for short) solution checks the replication status of objects across regions and gives you metrics and failure notifications in near real-time.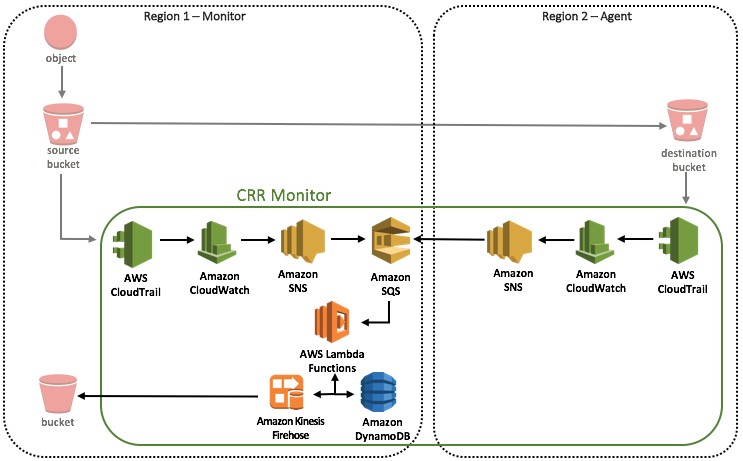 To learn more, read the CRR Monitor Implementation Guide and then use the AWS CloudFormation template to Deploy the CRR Monitor.
Tags for Spot Instances
Spot Instances and Spot Fleets (collections of Spot Instances) give you access to spare compute capacity. We recently gave you the ability to enter tags (key/value pairs) as part of your spot requests and to have those tags applied to the EC2 instances launched to fulfill the request:

To learn more, read Tag Your Spot Fleet EC2 Instances.
PCI DSS Compliance for 12 More Services
As first announced on the AWS Security Blog, we recently added 12 more services to our PCI DSS compliance program, raising the total number of in-scope services to 42. To learn more, check out our Compliance Resources.
HIPAA Eligibility for WorkDocs
In other compliance news, we announced that Amazon WorkDocs has achieved HIPAA eligibility and PCI DSS compliance in all AWS Regions where WorkDocs is available.
VPC Resizing
This feature allows you to extend an existing Virtual Private Cloud (VPC) by adding additional blocks of addresses. This gives you more flexibility and should help you to deal with growth. You can add up to four secondary /16 CIDRs per VPC. You can also edit the secondary CIDRs by deleting them and adding new ones. Simply select the VPC and choose Edit CIDRs from the menu: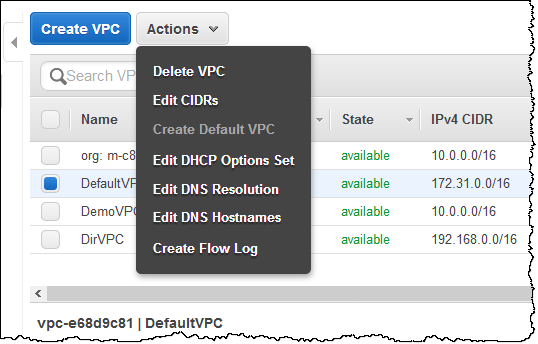 Then add or remove CIDR blocks as desired: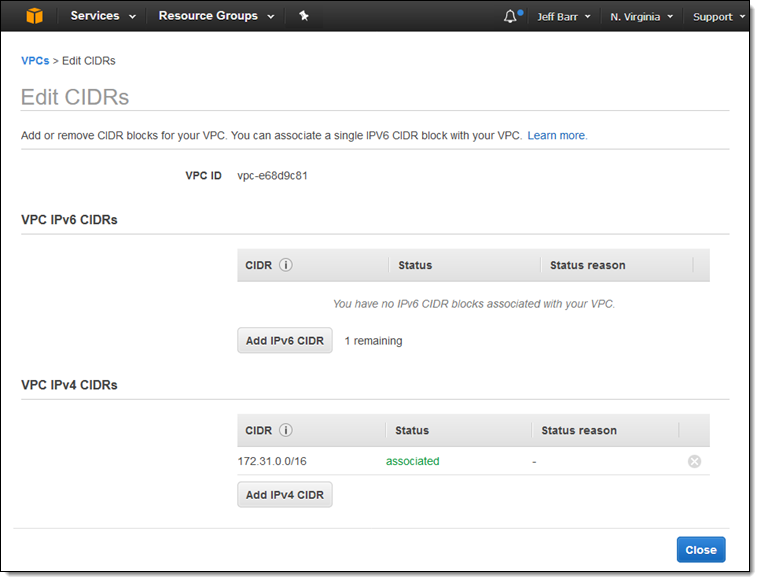 To learn more, read about VPCs and Subnets.
AppStream 2.0 Graphics Design Instances
Powered by AMD FirePro S7150x2 Server GPUs and equipped with AMD Multiuser GPU technology, the new Graphics Design instances for Amazon AppStream 2.0 will let you run and stream graphics applications more cost-effectively than ever. The instances are available in four sizes, with 2-16 vCPUs and 7.5 GB to 61 GB of memory.
To learn more, read Introducing Amazon AppStream 2.0 Graphics Design, a New Lower Costs Instance Type for Streaming Graphics Applications.
AMS Connector App for ServiceNow
AWS Managed Services (AMS) provides Infrastructure Operations Management for the Enterprise. Designed to accelerate cloud adoption, it automates common operations such as change requests, patch management, security and backup.
The new AMS integration App for ServiceNow lets you interact with AMS from within ServiceNow, with no need for any custom development or API integration.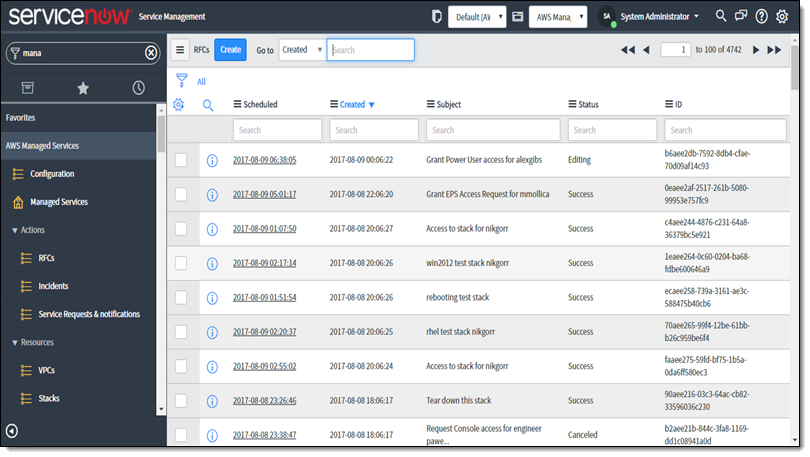 To learn more, read Cloud Management Made Easier: AWS Managed Services Now Integrates with ServiceNow.
Regtech in the Cloud
Regtech (as I learned while writing this), is short for regulatory technology, and is all about using innovative technology such as cloud computing, analytics, and machine learning to address regulatory challenges.
Working together with APN Consulting Partner Cognizant, TABB Group recently published a thought leadership paper that explains why regulations and compliance pose huge challenges for our customers in the financial services, and shows how AWS can help!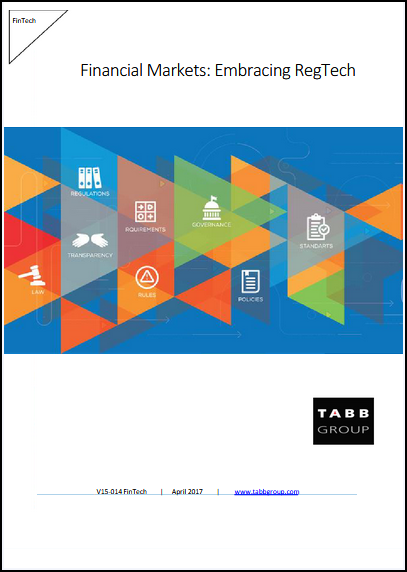 New & Revised Quick Starts
Our Quick Starts team has been cranking out new solutions and making significant updates to the existing ones. Here's a roster:
And that's all I have for today!
— Jeff;